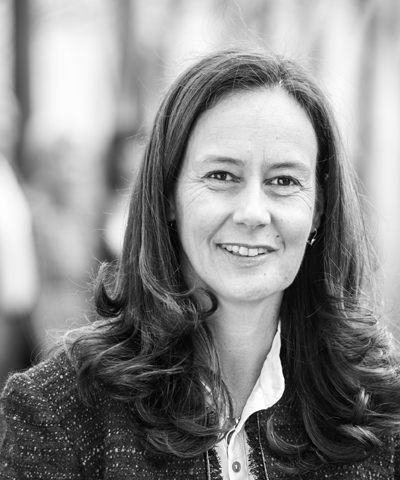 Laura de Achával
Partner
Laura is a lawyer and IP agent with more than twenty years of experience. She joined FRTB in June 1999, after working for eight years in a large local IP Law Firm.
Moreover, Laura leads the litigation department in a professional and responsible way. 
Laura has been in charge of relevant cases, such as "Philips vs. Remington", where she acted on behalf of Philips. In this case, the discussion was based on the validity of three-dimensional trademark registrations used in Philips shavers. Additionally, she retrieved the H&M trademark for Hennes & Mauritz through a legal proceeding. 
She has a vast experience in the legal implications of new technologies and social networks in relation to IP rights. Among other cases, she has been involved in the retrieval of the domain name of the tennis player, Juan Martin del Potro, by means of the WIPO Arbitration and Mediation Center. She has also been active in reporting accounts that were impersonating him via Twitter.
Laura is also keen on advising clients in all matters related to the filing, defence, management and licensing of IP rights. She has a close and direct relationship with the clients in order to find the best solution for their business.
She has also work actively in the area of ​​consumer protection and unfair competition.
Laura has also participated in several trade conflicts in addition to those related to IP matters and she is currently a member of the board of directors of one national company of foreign capital, as well as its general attorney.
Publications
"Commercial Code and supplementary regulations. Doctrinal and jurisprudential analysis. Volume 6 Industrial Property –Hammurabi 2006". Author of the chapter of precautionary measures in the Trademark Law Nº 22.362.
"From lawful use to illicit use … just one step?" co-authored with Veronica Canese. El Derecho 29/08/12.
Dissertations
2015 Speaker at the AAAPI Colloquium on the new Argentine Civil and Commercial Code: Its impact on Industrial and Intellectual Property law related matters. Panel Title: "Name of the natural person and pseudonym. Name of the legal person".
2014 Speaker at the AAAPI Annual Meeting. Panel title: "Everything you always wanted to know about trade names (but were afraid to ask): names, categories, company names, logos, trade designs/devices, corporate names, jurisdiction, adverse possession, statute of limitations, overlapping IP rights and more".
2012 Speaker at the AAAPI Annual Meeting. Panel title: "Damages compensation for IP infringements".
2009 Speaker at the AAAPI Annual Meeting. Panel title: "Statute of limitation in IP matters".
2007 Speaker at AAAPI workshop. Panel title: "License Agreements: standard, forgotten, recommended and rather not recommended clauses".
2001 Update of IP Jurisprudence organized by Fores and EABA. Topic: "Precautionary Measures."
AWARDS
WTR 1000
2015: Silver tier for litigation
2014: Silver tier for litigation
2013: Silver tier for litigation
2012: Silver tier for litigation
2011: Silver tier for litigation
Memberships
Marques. Currently she is a member of the Unfair Competition Team.
Licensing Executive Society (LES). 
Argentine Association of Industrial Property Agents (AAAPI). Currently she is a member of the Academic and Legal subcommittees. International Association for the Protection of Intellectual Property (AIPPI).
Buenos Aires Public Bar Association (CPACF).
Education
1994, Lawyer Catholic University of Argentina.
1999, Trademark and patent agent registered with the National Institute of Industrial Property of Argentina (INPI).
Languages
Spanish and English.